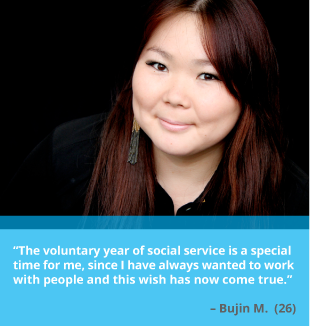 For your voluntary service, you will be paid at the end of each month. Depending on where your work assignment is, this will be between about 300 and 400 euros monthly. We will pay for the costs of insurance (health insurance, old-age pension insurance, accident insurance, unem-
ployment insurance and long-term care insurance).

And where will you be living?
During your voluntary service we will provide you with accommodation in the Stuttgart, Tübingen, Reutlingen, Ulm, Nürnberg and Munich regions. Depending on the location of your work assignment, we have residences and apartments at various locations and can also provide host families.